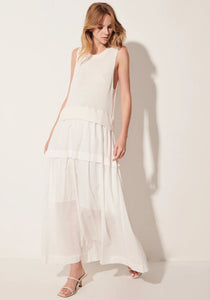 The Marcella Knit Dress takes effortless Spring dressing to the next level! Featuring a luxe knitted tank top with a cotton voile skirt, this style looks like separates while wearing like a dress.
-Knitted tank top.
-Round ribbed neckline.
-Sleeveless design.
-Easy fit.
-Deep ribbed hem on the tank overlays the skirt.
-Soft cotton voile a-line skirt.
-Tucked detail.
-Hip pockets.
-Deep hem.
-Knit: 35% Linen / 45% Cotton / 20% Polyester. Skirt: 100% Cotton.