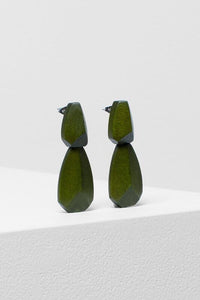 PRODUCT DETAILS
Our Sunne Drop Earrings are a contemporary design that form the perfect accessory for a subtle statement. Two handcrafted, abstract beads have been suspended from one another and delicately hang from the ear. Fixed to the ear lobe with a butterfly backing, pair with our Sunne Pendant Necklace for a complementary, organic look. Our wooden jewellery is hand crafted from sustainable plantation timber and made in Cebu, Philippines, by a family owned workshop who have collaborated with ELK since 2004.
MATERIAL & MAKERS NOTES
This piece is 100% handmade. Crafted from sustainable plantation timber it is grown, managed, harvested and replanted by the Go Green organisation under the guidance of the DNER. Each bead and piece is hand cut, shaped, dyed and then polished with a natural wax based product. The beads are strung on waxed cotton cord and the finished piece is extremely light. It is handmade in Cebu, Philippines by a family owned workshop called Earthworks who have collaborated with ELK since 2004.
CARE INSTRUCTIONS
Avoid water and other liquids, do not store in direct sunlight. If milky spots or marks appear due to contact with liquid they can be removed and the original appearance restored using ELK's jewellery wax or another suitable natural polish.